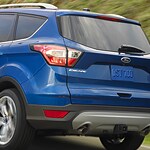 Capability is a big word, and it means one thing. Can your car get the job done? The Ford Escape definitely thinks it can, and there's a lot of evidence to back this claim up. Here at Shottenkirk Ford, we've heard a lot of good things about this compact SUV, and from what we've seen, most of them are true.
The Escape boasts fuel efficiency and an aptitude for saving you money with its 1.5-liter auto start-stop engine. By cutting itself when not in use, the Escape will cut down on fuel usage and save you money, especially when you're doing some city driving. The inclusion of various drive modes and the choice of different engines for different needs also definitely certifies the Escape's reputation as a capable vehicle.
If you want to see more of the Ford Escape, then you're invited to test drive this compact SUV here at Shottenkirk Ford.